Une localisation idéale

La villa se situe sur Saint Philibert, à la sortie de la Trinité sur Mer…

…elle a un accès direct aux deux belles plages de Saint Philibert…

…dont la plage de Men er Bellec (ou Beleg) qui est en face de la villa…

… sur la magnifique route côtière la reliant à La Trinité sur Mer.

Le plaisir d'une ballade sur le Port de la Trinité, à quelques minutes en vélo…

…avec les plus beaux multicoques qui viennent se préparer pour les courses autour du monde…

La chapelle de Saint-Philibert, les pieds dans l'eau…

Tous les mercredis et dimanches, profitez du magnifique marché de CARNAC !

Sans oublier Carnac pour ses sites mégalithiques…

Encore plus prêt, sur Locmariaquer : la "Table des marchands"

… et le Grand Mehnir Brisé.

Notre coup de coeur : Le magnifique "village" de Auray Saint Goustan

A visiter : Le Jardin des remparts de Vannes…

Une escapade dans la baie de Quiberon sur l'île d'Houat… Tout est possible !

La cote sauvage de Quiberon est à moins d'une heure.

La Côte sauvage… On aime !

Et les Couchés du soleil en Bretagne… On adore !

Sans oublier la gastronomie locale…

… et les fameux Kouign-Amann !

Göéland… Bec en avant… SIGNE DE BEAU TEMPS !

Vive la Bretagne ! Vive les Bretons !
An Ideal Location
For your next Holiday in Brittany,
Gulf of Morbihan - Quiberon Bay
La Trinité-sur-Mer / Saint-Philibert :

Between Land, Sea, River, and Beaches…
Your holidays four ways!
Stroll amid the menhirs, unwind on the beaches of Saint Philibert, watch the boats drift up the Auray river or sail into Port Trinité sur Mer after a beautiful day of sailing or fishing...What a delight to experience all of these magic moments in a single day! It's all possible here: it's up to you to decide what to do first! With its extraordinary setting between Quiberon Bay and the Gulf of Morbihan, Villa Men er Bellec has the perfect location, right in the middle of everything. Between Trinité sur Mer and Saint Philibert, across from Men er Bellec beach, in an exceptionally beautiful and protected natural space. Here, joyful living, sublime beaches, and an enchanting micro-climate prevail...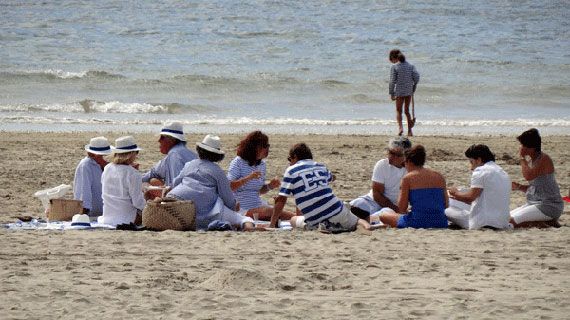 From the Villa you'll enjoy direct access to the two beaches of Saint-Philibert:
Men er Bellec Beach, well-known as an ideal and gentle setting for children, is just 2 minutes walk from the villa ! In summer, the water can greatly exceeded 24 ° c with the effect of the tide on the gentle slope to the shelter of the winds ...
Kernevest Beach, is famous for its Océane sailing academy and its magnificent view on the entrance to Port Trinité-sur-Mer, and it's just 10 minutes walk from the villa.

Quiberon Bay side:
Sheltered from the ocean swells by the Quiberon peninsula and the islands of Belle-Île, Houat, and Hoëdic, Quiberon Bay enjoys a very gentle climate and an exceptional 2,500 hours of sunshine per year. In Locmariaquer and Saint Philibert, beaches face Quiberon Bay, so sunbathing, swimming, nautical sports, and seaside activities can be enjoyed in complete peace and safety.
Gulf of Morbihan side:
The Gulf of Morbihan opens onto Quiberon Bay in a harbour of peace in Locmariaquer, at Kerpenhir Point. The Notre-Dame of Kerdro statue offers a symbolic welcome to yachtsmen and sailors. On occasion, the sight is of incomparable grandeur: off the coast of the point, high tide currents reach an exceptional force that can reach 11 knots in some narrowed passages. As the sea waters penetrate the Gulf, they swirl through a genuine labyrinth of coves, points, rocks, and many islands. In fact, there are more than 42 islands, including the most famous: Ile aux Moines and Ile d'Arz…
La Trinité sur Mer:
Tucked into the heart of Quiberon Bay, just a few hundred meters from Gulf of Morbihan, La Trinité sur Mer offers both the charm of an authentic South Brittany fishing village and the relaxation of a renowned seaside resort. The Port, an exceptional harbor that is very prized by yachtsmen, also welcomes world-renowned skippers who have made this their favorite stop-over. It is not uncommon to admire on the pontoons these sea monsters : The Sodébo, L'Idec Sport, The Spindrift, Safran... La Trinité sur Mer is also the birthplace of Eric Tabarly, one of the greatest French navigators.
Saint Philibert:
You'll love the sights of this seaside resort town, famous for its 17th century chapel on the banks of the Ster River, its coastal hiking paths, and its beaches. Its history is built on oyster farming and its identity marked by the influences of the sea. The ocean front is an exceptional natural treasure with its famous coastal road, fort, and the Kernevest lighthouse, with the top-quality nautical club and Océane sailing academy which is only 10 minutes by foot from the Villa.